The glow of the candle sets the mood. You breathe deeply, then relax. You know there will be wine…except it's going on your face.
But not like this…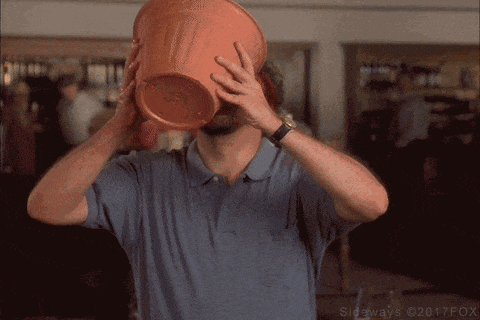 Over the years we've read much about the health benefits of drinking wine, especially resveratrol, a naturally occurring antioxidant found in red grape skins. In the earliest days of the Tour de France, riders would occasionally stop to swig some red wine (or beer) in order to thin the blood to help them through the tougher sections of the race. How they managed to get back on their bikes to finish the climb tho…
Heart Smart
Moderate, regular consumption of red wine, which contains the highest levels of resveratrol, can help lower blood pressure,and has anti-inflammatory properties. By decreasing low-density lipoprotein (LDL) cholesterol (the bad cholesterol), resveratrol helps to improve overall cardiac health, as well as protecting both the heart tissue, and arteries.
A recent study by the University of Alberta's Faculty of Medicine and Dentistry showed that high doses of resveratrol improved physical performance, heart function and muscle strength in lab models. Did they chug massive amounts of wine before hitting the gym? That would just make me fall off the treadmill. The subjects took it in pill form, which is much safer. All of the performance, none of the buzz.
Check out my video below for more info! 💆🏼‍♀️
Wine Skin
While much focus is placed on resveratrol in grape skins and wine, it is produced within the stalk and leaves as well as the mature grape skins. It acts like sunscreen for grape vines and other plant life, working to safeguard plants from UV rays of the sun, as well as other environmental stressors such as atmospheric toxins, and fluctuations in climate and temperature.
For humans, environmental stress from weather, sun damage, worry/anxiety, and poor diet can all lead to skin aging; free radicals are produced naturally as we age. Resveratrol, when applied topically to the skin, acts as an antioxidant, protecting the skin against exposure to harmful UVA rays, as well as providing anti-aging properties. According to Dermatology Times, a recent clinical trial of a stabilized resveratrol and vitamin E serum demonstrated improvement in elements of skin aging, including firmness and elasticity. When skin products containing resveratrol are combined with hyaluronic acid and peptides, stimulation of collagen and elastin are improved. By stimulating proteins, known as sirtuins (these repair DNA and decrease inflammation), resveratrol can increase cell life in the body, heightening skin's defense systems to fight disease, therefore prolonging cell life. Gentle exfoliation of old, dead skin cells, and hydration are also benefits.
Much like the exercise study, resveratrol in these skin formulations is in usually high doses. Sadly, the benefits to the skin don't usually happen if you just drink a lot of red wine. I've tried it.
Vinotherapy in spas utilize resveratrol in facial and body masks and creams.
It can take many forms, from having ground up skins and pulp kneaded into the skin, to the application of concentrated grapeseed oil in massage, to mud masks combining powdered grape products and mineralized clay.
Two leading vinotherapy spa products are:
Caudalie ~
* founded in France in 1993, Caudalie was one of the first companies to cultivate resveratrol in cosmetic applications in 2001.
* in 2006, made the commitment to use no parabens and create products that are natural and environmentally conscious.
* released in 2012, Vine Vera uses resveratrol in all products, combining it with essential oils, vitamins and minerals to keep it as natural as possible.
* since not everyone has the same issues with their skin, there are 10 varied collections to address individual skin care needs.
So, to unlock the secrets of youthful skin, look no further than the humble grape. And make sure to enjoy a nice glass of wine while you're at it.
Cheers! 🍷🍇
©TheWineStudent, 2018